GREENWICH, CT CONSERVATORY
Simply stated, our clients LOVE the sun! In their own words, "We prefer to go to Miami during the summer when it is hot." Understandably, our Design Team's marching orders were to create their conservatory with an ample amount of south-facing glass, and to integrate a motorized shading system
to keep the room temperate and comfortable.
This conservatory plan went through several iterations before we were able to strike a harmonious chord between the detailing in the new addition and the architectural nuances of the existing home. Specific correlations can be
found among the lines in the gable and transoms.​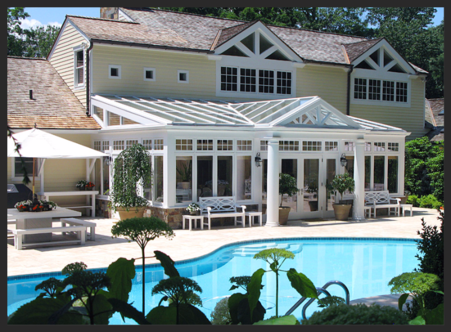 Alamo, California Conservatory
Baltimore Maryland Conservatory
Barrington, Illinois Conservatory
Bellevue, Iowa Conservatory
Bryn Mawr, Pennsylvania Conservatory
Chappaqua, New York Conservatory
Columbus, Ohio Conservatory
Darien, Connecticut Conservatory
Devon, Pennsylvania Conservatory
Greenwich, Connecticut Conservatory
Greenwich, Connecticut Conservatory (2)
Pennsylvania Conservatory
Ligonier, Pennsylvania Conservatory
Los Altos, California Conservatory
Manhattan Brownstone Conservatory
Medford, New Jersey Conservatory
San Juan Island, Washington Conservatory
Massachusetts Conservatory Project