Our clients' love for the beautiful vineyards that embrace their home became the inspiration for their exquisite conservatory greenhouse. Quietly retreating with a favorite book, or joining family and friends for popcorn and a movie makes this highly versatile California conservatory much more than a whimsical garden folly. The conservatory was designed to hold a custom skylight, or roof lantern, to bring natural light into the center of the room. The custom skylight also helped to ventilate the room through the motorized awning vents located within the vertical fenestrations. The leaded art glass was designed by Renaissance Conservatories, and placed within the transoms, and the custom skylight's vertical window walls.
We are pleased to present our
2012 Renaissance Conservatories
Award of Architectural Excellence for Outstanding Conservatory Design to
Bill Bocook of B.H. Bocook, AIA, Architects, Inc. for his stylish integration of this Renaissance Conservatory to the outside living area of our clients' Mediterranean home.
Congratulations Bill, on completing the perfect dining addition our clients had in mind.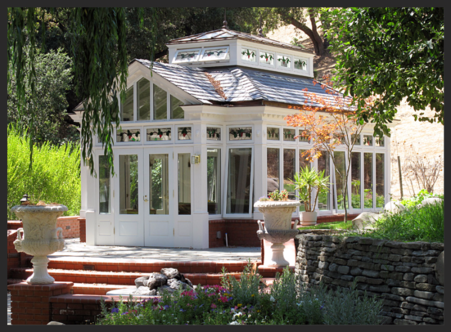 Alamo, California Conservatory
Baltimore Maryland Conservatory
Barrington, Illinois Conservatory
Bellevue, Iowa Conservatory
Bryn Mawr, Pennsylvania Conservatory
Chappaqua, New York Conservatory
Columbus, Ohio Conservatory
Darien, Connecticut Conservatory
Devon, Pennsylvania Conservatory
Greenwich, Connecticut Conservatory
Greenwich, Connecticut Conservatory (2)
Pennsylvania Conservatory
Ligonier, Pennsylvania Conservatory
Los Altos, California Conservatory
Manhattan Brownstone Conservatory
Medford, New Jersey Conservatory
San Juan Island, Washington Conservatory
Massachusetts Conservatory Project