​​​EXQUISITE
CONSERVATORIES

Alamo, California Conservatory
Baltimore Maryland Conservatory
Barrington, Illinois Conservatory
Bellevue, Iowa Conservatory
Bryn Mawr, Pennsylvania Conservatory
Chappaqua, New York Conservatory
Columbus, Ohio Conservatory
Darien, Connecticut Conservatory
Devon, Pennsylvania Conservatory
Greenwich, Connecticut Conservatory
Greenwich, Connecticut Conservatory (2)
Pennsylvania Conservatory
Ligonier, Pennsylvania Conservatory
Los Altos, California Conservatory
Manhattan Brownstone Conservatory
Medford, New Jersey Conservatory
San Juan Island, Washington Conservatory
Massachusetts Conservatory Project
Staten Island, New York Conservatory
Renaissance Conservatories offers a design process, during which time we will begin your journey to the rewarding experience of creating a custom conservatory to fit your lifestyle. By working with our design team or having your architect and builder work with us, our company will bring your project from sketch to reality.
A conservatory can be used for multiple applications. Common uses include dining space, work areas, or gathering space. It is important for your conservatory design to be based on the architectural detail of your home while functioning to enhance your lifestyle. Adding a Renaissance Conservatory to your home is a process that involves our entire company's participation. Each conservatory is an authentic English-styled showpiece manufactured in the heart of Lancaster, Pennsylvania, shipped and installed on your home using one of our in-house certified installation crews.
Enhance the beauty of your home by selecting one of our various hardwoods for Renaissance Conservatories to use in milling light-lined decorative details to furnish your conservatory with a thoughtful eye for the aesthetics of your home. Renaissance conservatories can be manufactured to fit any custom size; each structure is built to order and to your exact sizes and configuration to integrate perfectly into your home.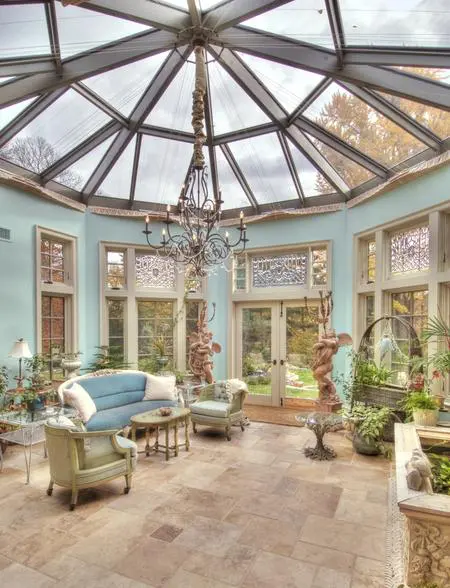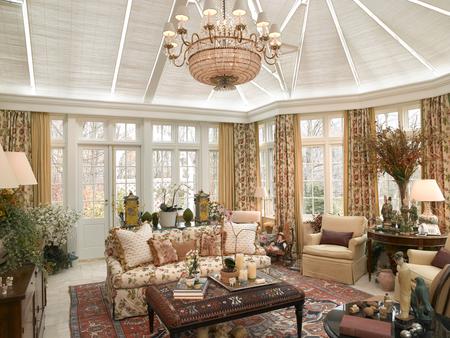 Renaissance Conservatories offers "design-build projects." If you are debating the addition of a conservatory to your home, our professional design staff will gladly assist you. Our team of conservatory designers will work with you to create the correct design for your property, designing around your intended use and existing architectural details of your home. Our in-house design experts will assist you in creating a conservatory that matches your home's aesthetics. You will be provided with working shop drawings, elevations, roof plans, and an engineer's stamp for your state.
A Renaissance Conservatory project manager can also provide site visits to the future location of the conservatory to inspect the structure's proposed location and foundation prior to the commencement of shop drawings. All conservatories are engineered by Renaissance Conservatories to meet local building codes, including snow, wind, water, energy compliance, and even seismic conditions.
Completed Projects - An English-styled or Victorian conservatory achieves its classic design through the addition of decorative ornamentation. Renaissance Conservatories feature intricate detailing. Decorative push/pull solid bronze hardware can be fitted to your conservatory, or standard roto gear hardware can be used. Custom-milled Grids can be added to the windows in either a true divided style or a simulated divided option. Grids can also be manufactured to match the existing grids in your home.
Base-raised panels are a common element of an English greenhouse. Columns can line the exterior or interior of the conservatory. Custom-milled wood raised panels and columns can have custom profiles and be designed to hold interior or exterior sconces.
Custom profiles including; base moldings, fluted columns, decorative rounded bull-nose, and window valances, can be incorporated into your project for a personal touch. Each wooden conservatory is designed to meet all of your expectations and add space and value to your home.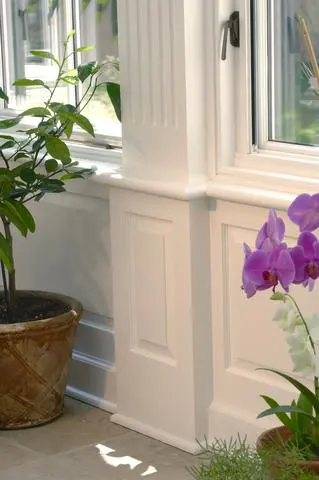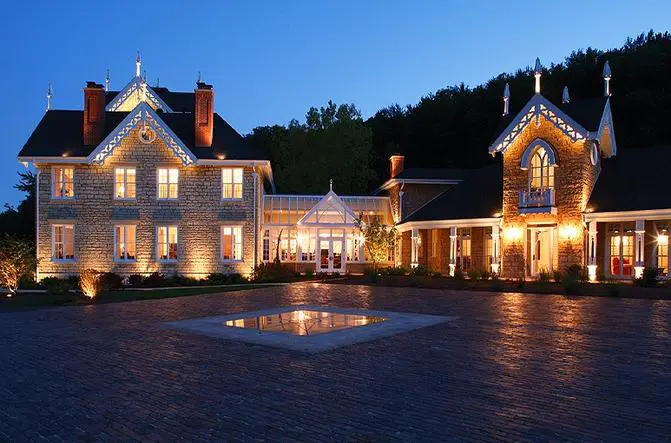 Conservatories can include custom dormers, gable-ends, and decorative lite-lined sash to create a space that feels open to the outdoors.
The Lean-to wood conservatory (left) was a valuable connection between the original home and the new addition structure (right). The architect designed the conservatory as a Kitchen area. Natural light was the driving factor behind the design, and the architect wanted as much natural light as possible to enhance the beauty of the kitchen.
Renaissance Conservatories installed this conservatory on this lovely home that overlooked the Mississippi River.
Many of today's homes are designed with large statement doorways in order to give an elegant first impression to visitors, to allow natural light into the home, and to increase curb appeal.
We can create unique doors, sidelights, transoms, and door surrounds – that will add beauty and distinction to your wood conservatory. Custom interior doors also offer deeper, more pronounced profiles that will make a statement and add elegance to the interior of your home.
A conservatory can include single, french-styled, and folding wood doors. A folding door can allow your conservatory to be open to the outdoors by opening an area of up to twenty (20') or greater. Doors may come pre-hung, unfinished, primed, finished, delivered, or installed, depending on your specifications.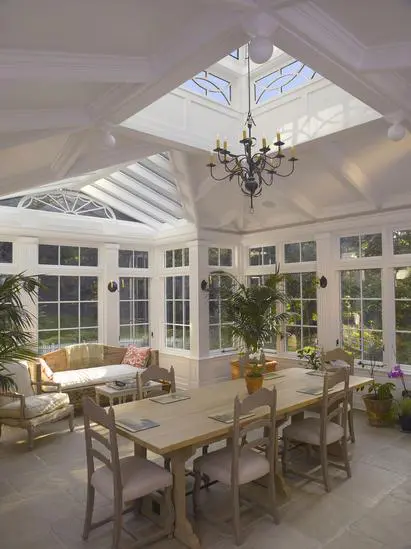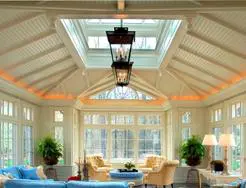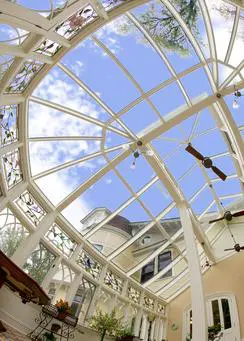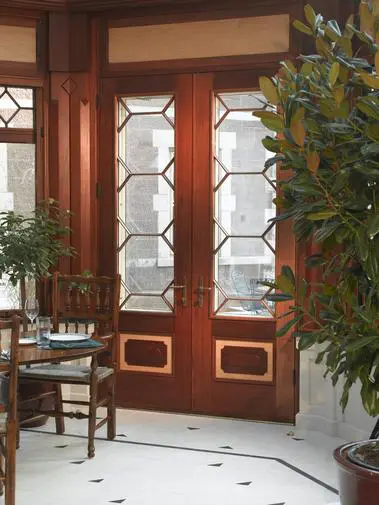 Custom-milled french doors
Conservatories can include an all-glass roof or a solid decorative roof with glass roof components or sections to enhance the conservatory structure and bring additional light into the home.
All conservatories can be outfitted with custom skylights, roof lanterns, and glass roof dormers.
The interior woodwork of this conservatory gives up to light lines and the warmth and charm created by mahogany components. The exterior can be Solid metal roofing or glazed with premium Low-E insulated laminated roof glass.
Contemporary :
Custom-designed and manufactured wood window walls can be delivered directly to the site from our facility located in Lancaster County, Pennsylvania. Our line of custom-milled curtain window walls can include a glass roof or simply be added to any project to achieve a modern, sleek design for any home. Direct-set profiles allow us to design a structural window wall that opens a home to view the outdoors.
Contact a Renaissance Conservatories representative to discuss how we can design a contemporary window wall system for your next project.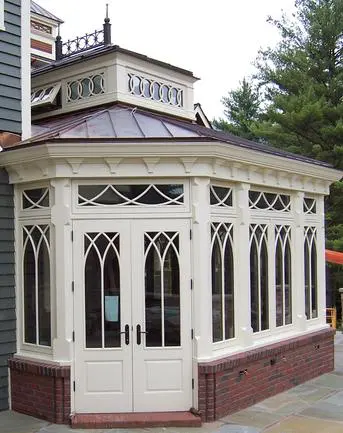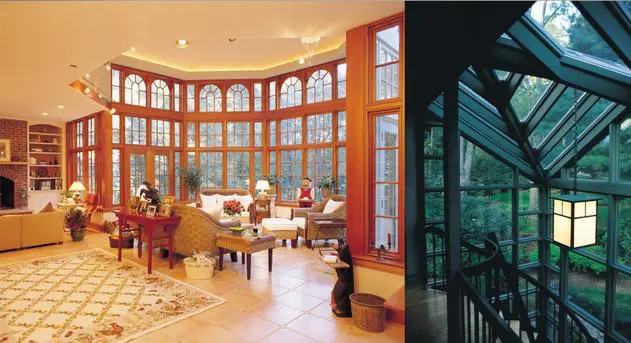 Custom-milled french doors